Just a quick update because I didn't write here lately:
The club where I work now, it reminds me of the first club I worked. A bit quiet but nice and relaxing. I like everything about it. The accommodation is just super, I have my own room with my own bathroom and kitchenette. I don't need to share it with other dancers.
And I was a little shocked upon arrival when I saw the boss cleaning up the room for me, usually, they just leave it as the previous girl left it, and I have to clean before I move in. Those girls who travel for work know it's very rare in this business. Dancers apartments are usually dirty and overcrowded.
Here if I want to run around naked all day, I can do it. I'm by myself. (No, it's not boring! That's my well-desired peacefulness!)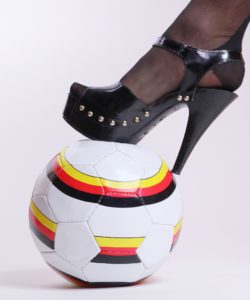 I like working with German guys. They are polite and easygoing, they know if they come to the club, it costs them some money. Not all buy drinks or dances, but at least they buy dollars tipping the dancers. Just a very few think they are in a cinema and they can just watch without paying. Here is no stage show all night, if they don't pay, we don't dance. Perfect! I like this house rule, it's just a waste of energy dancing for guys if they don't pay. It makes you tired for nothing. Here I don't feel tired since I'm here (end of September) I only took one day off. The town is small but great, lots of parks around if I feel unmotivated or just need a good walk.
And I also have a good relationship with the people in the club. Funny, those who can speak English here, I don't want to talk to them, and those I like to speak only German or very little English. It's just putting me to learn more German, which is great! I already regretted the time I spent in other countries without learning the language, here I have a bit more chance to do so. I also think about going back to school, so I dusted my old psychology books and brought them with me. It keeps me occupied these days. When the club is not busy, I'm sitting in the corner wearing lingerie and heavy make-up and reading the Introduction to social psychology book or German grammar. Funny though, but you know by now I'm not your average stripper.
So for all these reasons above, I feel I'm in the perfect place right now. I think my travels stop here, I will come back to this club only. No more reason for me searching for other clubs.
I'm happy where I am now.