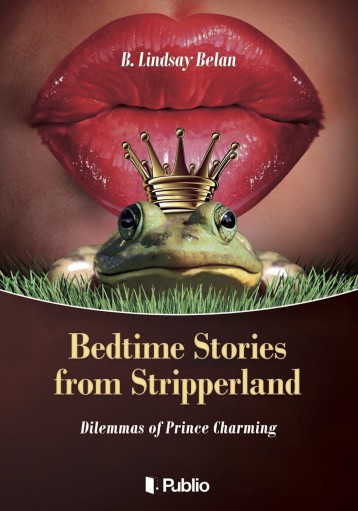 I have good news for you: my book is finally finished! The most exciting period is yet to come, to find a publisher or literary agent whom I can establish a good relationship for my future plans. Difficult, but it's not impossible. If I could have reached the point where I'm standing now, there is nothing to stop me from achieving my goals.
I had amazing years of experience in nightlife working as an exotic dancer what made me who I am today and shaped my opinion about men and relationships.
During my work I have realised lots of men don't know how to approach a dancer, this points to the fact that lots of men don't know how to approach a woman. The book is about how they shouldn't approach a dancer or a woman. I didn't want to write an erotic novel, just to share certain situations and facts about what's happening in clubs. The main idea was while the whole world is judgemental towards strippers, nobody really talks about those men who have to resort to our service and how they behave.  I bared the social stigma for long enough. People judged me for who I am and what I do, this time let me judge other people, first of all, men who come to the clubs. Because these clubs will exist until men have the desire to come in, but nobody judges them for this pastime. I found lots of books written by sex workers, like The Girlfriend Experience by Rebecca Dakin, but not many strippers wrote books about their work. Maybe there are some books on the American market, but there they have a different style and system in clubs than we have in Europe. The books I've read about the stripping industry were more like social studies.
My book is basically a bunch of my stories from the blog about strip clubs but focusing on the behaviour of the average customers. I wrote it with the same openness and honesty as I wrote on my blog. The book is based on Prince Charming and fairy tales, because I haven't met lots of Prince Charming in those clubs, but more often other characters of fairy tales, like the Big Bad Wolf or the childish Peter Pan.
Growing older I must say I haven't met my Prince Charming yet. Some good Prince Charming material yes, who had the potential but indeed I met lots of Prince Charmless.
Just for fun, I put them and their stories into 12 categories. I don't want to give an impression that I was dating a lot but if we think about it, every introduction to a customer is like a date when I want to gain his attention and seduce him to get in the private, while he's offering me drinks. I'm quite judgemental towards men, it's true. As one of my friends say, the book is harsh and he thinks it can be successful, but he's happy that he's not the man who wants to impress me though.
My future plan is to work as a dating coach, I have finished the course this year and to write more books. I'm not thinking about writing self-help books on dating as there are so many already on the market but talking about real relationship issues in fiction. I already have further ideas for other books. Another privilege of me besides being smart, that I'm pretty. Seriously talking, I've done some modelling and I'm pretty comfortable front of the camera so I think photo materials could complete the image of a sexy writer as I'm planning to cooperate with more photographers in the future and create more high-quality photos.
My book has been overviewed by two of my friends, one is a photographer and writer himself but he has never been in a strip club in his entire life, the other friend knows every bit of this word and I know him from a club. For the result, both the opinion and support were used for the final touch on the book. Here I'd like to thank them for their help and I'm thankful for those who don't lose hope in me during this period.
https://publioboox.com/en_gb/bedtime-stories-from-stripperland